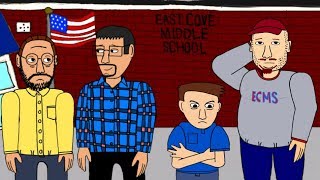 The First Day | East Cove: Episode 1
It's the first day of the semester at East Cove, but Paul, a sixth grader, is far from excited to be going into middle school. Mr. Michaels, an old-fashioned band instructor, must contend with the antics of Mr. Gerreri, his millennial student teacher. A former park ranger named Carl has to get used to his new job as a gym coach.
Join this rag-tag group in their various misadventures in this all-new animated series.